Wallace's fame spread to China
Release Time: 2012-4-9|Read: 2517 times | Print
The death of the famous broadcaster, Mike Wallace, 93, on Saturday has left political figures and journalism veterans from Washington to Beijing in a state of sorrow.
During his 60-year career, Wallace challenged a long list of global newsmakers ranging from Malcolm X, Ayatollah Khomeini, Anwar Sadat and Yasser Arafat to Vladimir Putin and Mahmoud Ahmadinejad, most notably on the renowned CBS 60 Minutes TV program.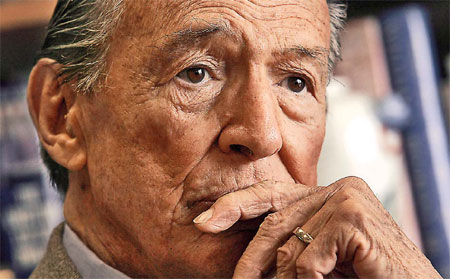 [align=left]Mike Wallace, longtime CBS 60 Minutes correspondent, listens during an interview at his office in New York on May 8, 2006. [Photo/Agencies]

[/align]
Former US First Lady Nancy Reagan, a friend of Wallace's for 75 years, called him "an old school journalist and one of the most astute people" she had ever met.
Wallace's tough, no-nonsense style made him a definitive voice in television journalism. Morley Safer, a correspondent at 60 Minutes, which Wallace helped to found in 1968, said: "Wallace took to heart the old reporter's pledge to comfort the afflicted and afflict the comfortable. He characterized himself as 'nosy and insistent'. "
In the US, Republican presidential candidate Mitt Romney said the newsman had "integrity, charm, character". His rival, Newt Gingrich, meanwhile, praised Wallace for his "legendary" investigative reporting, adding that his life "created a legacy young reporters will study for years to come".
The anchor's influence went far beyond journalism circles and US borders. From exclusive interviews with former Chinese leaders Deng Xiaoping, in 1986, and Jiang Zemin, in 2000, the hard-nosed interviewer won significant fame throughout China, so much so that excerpts from his interview with Deng have been incorporated into the Selected Works of Deng Xiaoping, a virtual bible for Chinese officials.
Yue-sai Kan, a Chinese-American television personality and businesswoman who knew Wallace for 30 years, said the anchor met her to have a detailed discussion before he visited Beidaihe, Hebei province, where he interviewed Jiang.
"From a professional standpoint, Mike was an unbelievable reporter," Kan said. "He was extremely good at his research I will never forget his kindness and encouragement. His influence on journalism and on me personally will never be forgotten."
Zhao Qizheng, then minister of the State Council Information Office, said Wallace had prepared "more than a dozen pages full of notes" before the interview with Jiang.
"This fully reflected the superb capabilities of an interviewer. His reports attracted wide attention in the US," recalled Zhao, who is now chairman of the Foreign Affairs Committee of China's top political advisory body.
The interview, for one, inspired US investment banker Robert Lawrence Kuhn, who would come to work with China's leaders, to write a biography of Jiang. The book, The Man Who Changed China: The Life and Legacy of Jiang Zemin, was published in 2005.
Kuhn met Wallace at an exhibition about Chinese culture in New York City in September 2000. It was the same week that Wallace's interview of Jiang was broadcast on 60 Minutes.
"I was just finishing my first book on China and when I saw the Wallace-Jiang interview, I was so moved that I wrote a description of the interview, which was inserted as an 'Afterword' at the end of that book," he wrote in an email response to China Daily.
"It was in this way that I first began to really know, and profoundly appreciate, President Jiang. A very short time later, I suddenly had the big idea to try to write a full biography of President Jiang, to use the extraordinarily rich life of Jiang Zemin to explore the tumultuous history of China over three-quarters of the 20th century, which set the trajectory for China's remarkable transformation and historic rise," Kuhn wrote.
"Mike Wallace was a hero to many Americans, especially to American journalists, in his fearless challenge of those in power and his aggressive approach to those who cheat or lie. We all loved watching Mike Wallace in action; we learned a great deal from him; he influenced an entire generation of journalists. We will miss him," he wrote.
Chen Weihua, Jiao Xiaoli and Reuters contributed to this story