Mainland police transfer suspect in fatal shooting of dance hall manager
Release Time: 2012-7-5|Read: 3080 times | Print
A Taiwan fugitive who allegedly shot a man to death and escaped to the mainland was handed over to Taiwan police on Thursday.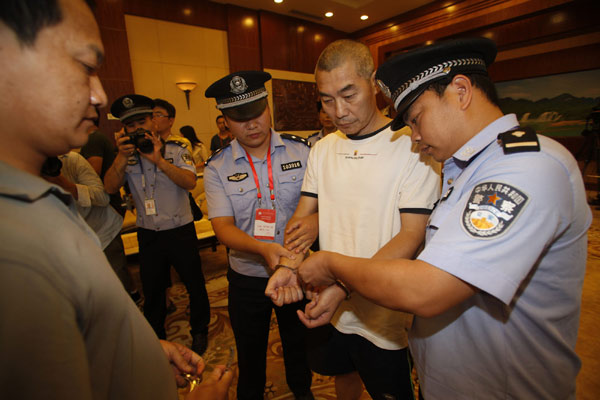 [align=left]Mainland police officers transfer Yu Chao-tsung (center), a Taiwan resident suspected of killing a man on the island in January, to the police of Taiwan at the Nanning Wuxu International Airport in the Guangxi Zhuang autonomous region on Thursday. Wang Shen / Xinhua



[/align]
Yu Chao-tsung left Nanning, capital of South China's Guangxi Zhuang autonomous region, at 5:10 pm and arrived in Taipei around 8 pm, the Ministry of Public Security said.
More than 10 police officers from Guangxi and four policemen from Taiwan participated in the handover, Li Huagang, a publicity officer of the autonomous region's public security bureau, told China Daily.
Authorities checked Yu's belongings, including a laptop and four mobile phones, during the handover and changed his handcuffs, Li said.
"Yu remained cool and said nothing when our two police officers held him," Li said, adding that the handover lasted around 20 minutes.
The 52-year-old is accused of fatally shooting a dancing hall manager in Taiwan's southern Pingtung county on Jan 6, according to a statement from the ministry.
In April, Yu escaped to Fuzhou, capital of Fujian province, after illegally crossing the Taiwan Straits by ship from New Taipei City, and took a bus to Nanning to hide, the statement said.
The ministry asked police in Nanning to apprehend Yu as soon as possible because they feared he could be a danger to others, the police authority said.
On June 7, police found Yu hiding on Jinan Road in the city and arrested him, the authority said.
Yu is not the first suspect to be transferred to Taiwan by mainland police, the statement said. Two Taiwan fugitives were handed over to their hometown authorities in June.
In April 2009, police on the mainland and Taiwan signed an agreement on legal cooperation and cracking down on crime. So far, more than 190 Taiwan suspects have been sent back, the statement said.
In May, law enforcement officials from the mainland and Taiwan seized 482 people suspected of participating in a major telecom scam with the help of police in six countries, Xinhua News Agency reported.
"We'll stay in touch with Taiwan police, hoping to enhance cross-Straits judicial cooperation and provide a safe environment for residents," said a senior police officer of the ministry, who declined to be identified.
Dai Peng, director of criminal investigation at Chinese People's Public Security University, said even though there have already been many achievements, cross-Straits police cooperation is just a start.
"There is still room for improvement in cross-Straits legal cooperation, although the two areas have differences in laws and regulations," he said, adding the cooperation can help build trust between the mainland and Taiwan.
The professor said Yu's escape also reflected a loophole in exit-entry management. He suggested police from the two areas exchange more information.
Wu Ming'an, a criminal law professor at China University of Political Science and Law, echoed Dai's comments and said the punishments the suspects receive will depend on the laws in Taiwan.
"The cooperation is based on two different legal areas, which means the mainland cannot intervene in the judicial work of Taiwan after those suspects are sent back," he said.
Contact the writers at caoyin@chinadaily.com.cn and huangfeifei@chinadaily.com.cn
Huo Yan in Nanning contributed to this story.